Take flight with us!
Louisville's elite flight training center.

Learn to fly the most popular
aircraft in the world!

Total Aircraft
Management Services

Learn to fly helicopters!

Fractional Shares

Contact us to set up a
Demo Flight today!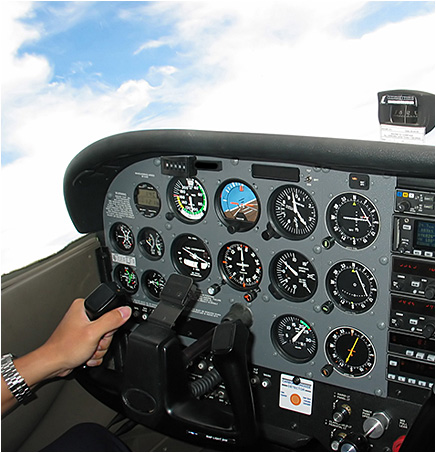 An instrument rating is one of the more difficult training courses because it demands a higher workload and precise aircraft control with references solely by instrumentation. However it is recommended that every pilot get their instrument rating to become a safer, more experienced pilot while enabling the pilot to utilize the aircraft in more adverse weather conditions. At Cardinal Wings Aviation, we will teach you to perfect your skills of instrument flying by flying in actual weather conditions and what factors to consider when making a go/no-go decision. Our instructors have experience in almost all weather conditions and we encourage students to gain that experience with us before attempting it on their own voluntarily or involuntarily. Our aircraft are equipped with both standard instrumentation as well as "glass cockpit" instrumentation that enhances situational awareness. We encourage students to share time in the aircraft while building time to practice Crew Resource Management as well as keep their costs to a minimum.
FAA's basic requirements for the Instrument Rating
You must hold a current Private Pilot Certificate
You must read, speak and understand the English language
You must pass a 60 question computerized test based on the ground training knowledge you receive and make at least a 70 score.
You must have at least 50 hours of logged cross-country pilot in command time
You must log 40 hours actual or simulated instrument flight time 15 of these hours must be with an instructor
You must receive instruction on one cross-country IFR flight of at least 250 nautical miles and execute 3 different types of approaches on the trip.
With all of that done, you will then take a "check ride" with an FAA Designated Pilot Examiner. This includes an oral exam by the examiner and a flight test where you demonstrate your proficiency in the plane.
Instrument Rating Course Costs
Standard Instrument Rating Course
This rating is intended for those serious about adding an instrument rating to their private. This estimation assumes the student has a private pilot's license and 42 hours of PIC cross country time, including at least 15 hours of simulated or actual instrument time.
Prerequisites:
Cessna 172M – Call for Pricing
ESTIMATED COST TO OBTAIN INSTRUMENT RATING
Note: All training costs may vary depending upon dedication and commitment of the student.
For an advanced training experience, we offer aircraft with enhanced digital instrument panels. For more details, please contact us.
ESTIMATED COST IN THE ADVANCED AIRCRAFT
Diamond DA-40: Call for Pricing
Cirrus Aircraft: Call for Pricing